Kisakallio Sports Institute is a non-profit foundation, which offers a wide variety of sports, activities, educational possibilities and excellent facilities for professional and amateur sports enthusiasts. Kisakallio Sports Institute was founded in 1949 to be a Gymnastics institute for women of all ages.
Today Kisakallio Sports Institute is one of the biggest training and education centers in Finland and Europe with 700 beds and almost 15000 sqm of sport facilities. In the end of the year 2023 Kisakallio will have a brand new hotel, which will expand the capacity of overnight guests.
Kisakallio is surrounded by 250 hectares of wild wood, an area called "Karnaistenkorpi", which is nationally and internationally environmentally unique. Karnaisten Korpi is owned by the City of Lohja and the nature trails going through the entire area are maintained by Kisakallio Sports Institute. Also the biggest lake in Southern Finland, Lake Lohja, is just front of you.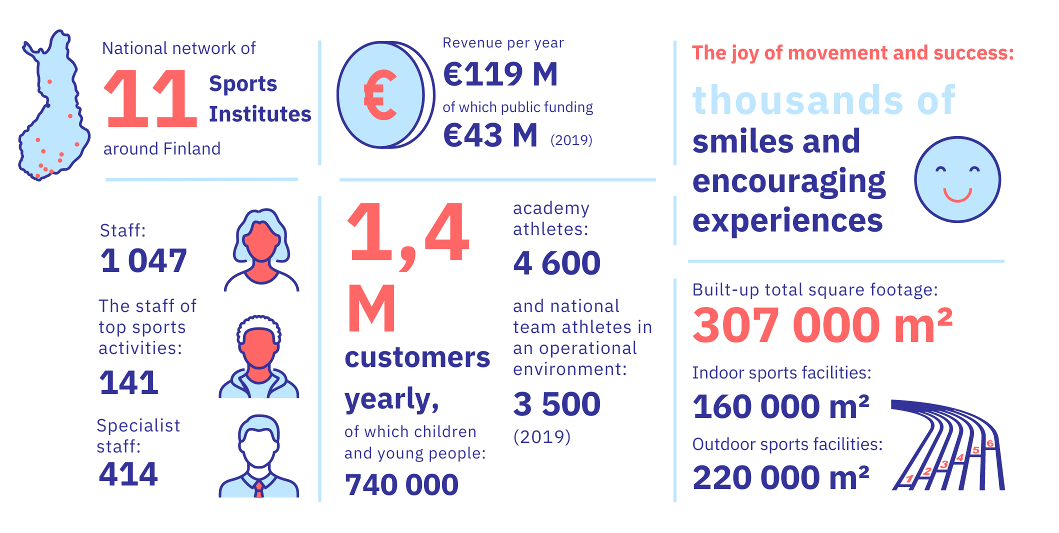 Kisakallio Sports Institute is part of the Association of Finnish Sports Institutes, which consists the nationwide network of 11 national educational sports institutes in Finland. Sports Institutes have a meaningful role of promoting exercise and sport culture, creating coaching knowledge and combining education and sport.
The pedagogical education of Sport Institutes developed originally from physical education (started in 1901) and the expertise and knowledge in sport science. Education and coaching are developed in a cooperation with the Sport Institutes and other organizations such as the Ministry of Education and Culture, Finnish National Agency for Education, the Finnish Olympic Committee and the Finnish Paralympic Committee.
Sports Institutes are the only schools granted by the Ministry of Education and Culture to offer education for a vocational degree in the sports field in Finland. These institutes organize courses for Vocational Qualification in Sports Instruction and sports related further vocational education. Non-formal education in the sports field offered by the institutions consists of sports camps for children and youth, the promotion of adults' and elderlies' health and wellbeing, courses striving to maintain and improve working ability and of sport performance centers.