Meeting in Kisakallio, Close to nature
Kisakallio Villas offer a harmonious, peaceful meeting environment in the middle of rugged nature, on the shore of Lake Lohjanjärvi. The villas are homey and furnished to a high standard. Each Villa has accommodation, a spacious table and a large common space for both meetings and meals.
An essential part of the villa meeting is delicious food, which is selected from first-class ingredients in our own kitchen. The menus change according to the season. It is an honor for us to favor food produced close to home.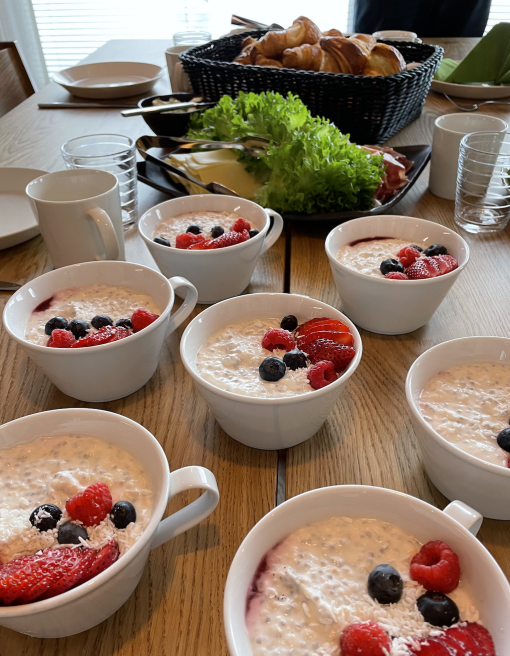 A sumptuous breakfast and a fresh lunch
The heart of Kisakallion Villa Kokous is delicious food. The day starts with a sumptuous breakfast: chia porridge, smoothies, crispy croissants, fresh vegetables, premium juice and of course coffee. Our lunch is always a healthy, tasty whole made of seasonal ingredients, which will not leave anyone hungry. When activities or sports are included in the day, everyone will eat dessert with a good conscience.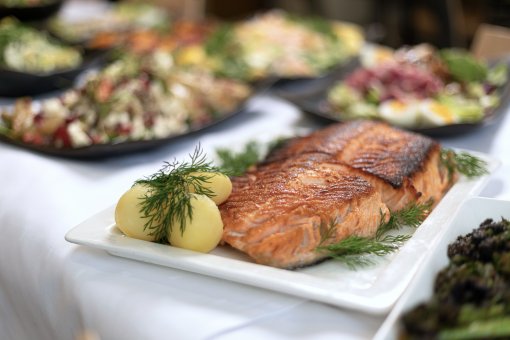 A dinner together crowns the day
Kisakallio's food is excellent - delicious and healthy. Menus for lunches and dinners vary according to the season; in spring we enjoy asparagus, early potatoes and other fresh vegetables, the colorful summer menu consists of strawberries, rhubarb, melons and freshly harvested root vegetables. The autumn harvest brings wild berries, mushrooms and game to the table. In winter, we eat warm soups, cabbages and citrus ripened in the heat of the south. Vegetables and fresh fish are the stars of our kitchen, but we also use game and other high-quality domestic meat and cheeses.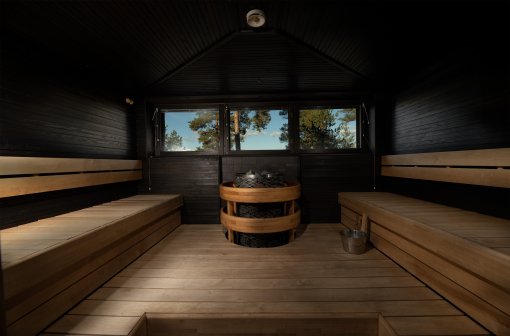 Accommodation and sauna in your own villa
For an overnight Villa Meeting, the accommodation is at the Villas. Additional space can be arranged from the other Villas or the hotel. Having a sauna in the Villas keeps the group and the team spirit together. A traditional Finnish sauna by the beach can be booked with separate saunas for men and women.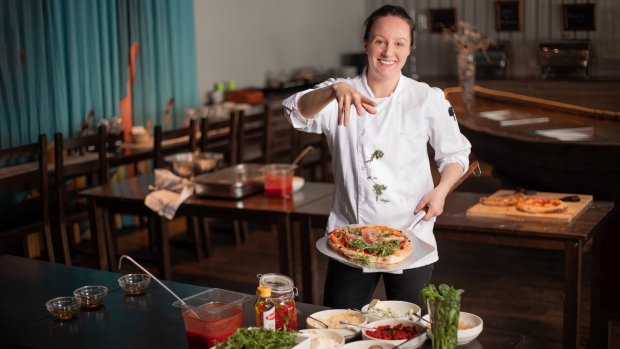 Have a Pizza or Barbecue Party
Make the dinner a real show number by making the pizzas yourselves!
Kisakallio's chef guides your team to the secrets of Neapolitan -style pizza, and everyone makes a delicious artisan pizza for themselves.
If the meeting day has already taken all your energy, then a sure way to relax is to order our partner Hiidenvesi BBQ and have a proper barbecue party with delicious smoked or grilled delicacies.
Additional Information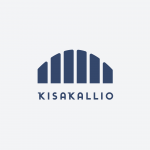 Corporates, Groups, Leisure